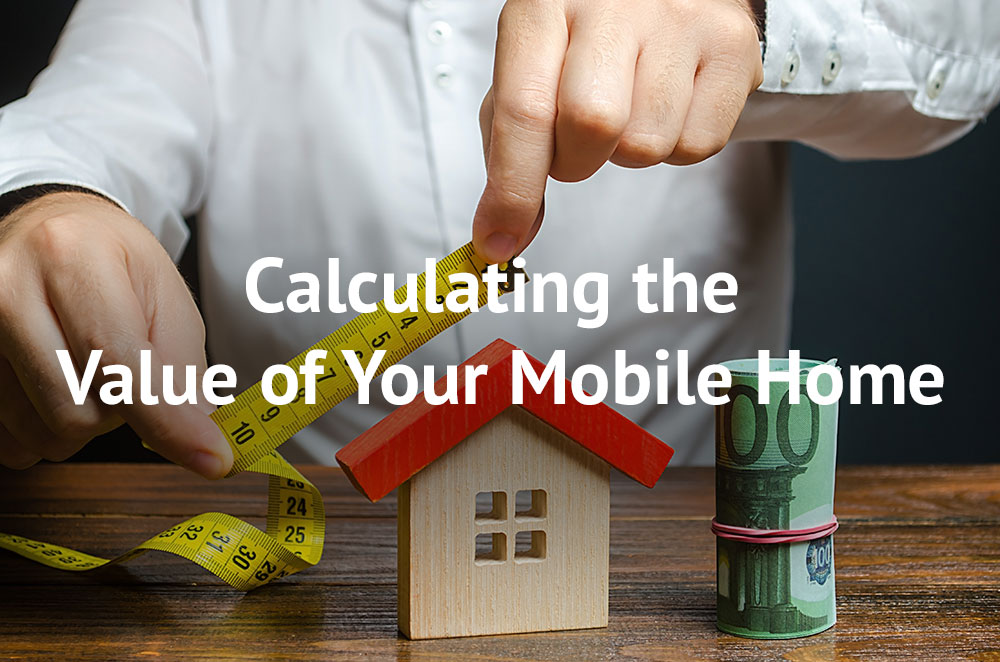 Owners of mobile homes have the opportunity to make a profit off their homes by using the right tactics for getting the most value out of it. No matter the size, age, or quality of your property, you'll find a way to make the most of your dwelling.
If you're interested in selling your mobile home, you'll have to figure out its true value. There are numerous factors you should consider before determining the value of your manufactured home. Although it might be difficult for you to find an immediate mobile home price guide through most resources, identifying the criteria for finding your NADA mobile home value should help you.
Is There a Kelley Blue Book for Mobile Homes?
Initially, people use the Kelley Blue Book as a price guide for automobiles. However, alternatives to the Kelley Blue Book for other consumer goods, including mobile homes, have become available to others.
The NADA Book Value is used for manufactured home value. You can fill in online value reports to input your mobile home's details and features to find the property's value. For a small fee, you'll receive a price estimate for your manufactured home.
Average owners usually fill out the Basic Used Home Value Report, which gives them a general idea of the value for buying or selling a mobile home. If you search online, you may find free book value options for your home. Application forms usually ask you for the following information about your mobile home:
Name of the manufacturer
Name of the model series
State location of the home
Year of manufacturing
Dimensions of the home's main floor area, usually covering the width and length
Overall condition of the home
How Much is My Mobile Home Worth?
You may be wondering, "How do I find out how much my manufactured home is worth?"
Before choosing to sell your mobile home, you may ask yourself how much it's worth and what factors affect its cost. Most mobile home price guides give you a general idea of the value based on its default features, customized adjustments, and external environmental conditions.
When determining your manufactured home's worth, there are a few factors to consider when creating an estimate. While you can easily observe some aspects, you can also use the NADA's guidelines for finding out the value of your mobile home.
Mobile Home HQ has been purchasing and selling mobile homes for many years. Contact us today and have one of our team members quickly value your mobile home. If you would like, we can also give you a quick cash offer.
The following topics is how we will determine the value of your mobile home:
Condition of the Mobile Home
One factor that's crucial to determining your mobile home's value is your mobile home's condition. If your home is in poor condition or lacks repairs inside and outside, it will have less value.
Manufactured homes that look presentable tend to have more value. The state of your neighborhood, property, or mobile home park can also determine the estimated value.
Size of the Mobile Home
The size of your mobile home also determines how much your mobile home is worth. When comparing sizes, larger, double-wide mobile homes have higher value prices than smaller, single-wide homes. Most mobile home value estimation forms ask you for the width and length of the mobile home.
Many lenders require that the minimum measurements of a manufactured home add up to around 400 square feet. If your potential buyer is applying for financing, this can be a sticking point.
For cash buyers like Mobile Home HQ, it's less of a concern.
Location of the Mobile Home
The location of your manufactured home also plays a part in determining its value. It may differ from state to state. When placed on a property you own, the home's value will be higher than on leased land.
Preference for location differs between each buyer.
If your mobile home is in a remote, quiet spot, it may garnish more buyers' appeal than loud and busy locations. Mobile homes located in relatively safe neighborhoods may be more valuable to buyers than less stable places.
If the placement location of the mobile home's location is away from packed mobile home parks, it may offer an option that determines a buyer's decision for rent or property fees that may be present in other parks.
Geographic land differences may also affect its value on the property market.
Additional Features in Your Mobile Home
Depending on the type of home you've got, special features in your home can also help you determine the overall value of a mobile home.
For external constructions, the condition of your doors, roofing, siding, skirting, steps, and windows all add up to your estimate. A recent paint job can even boost curb appeal and help you sell your home for more.
Internal additions that help you determine your mobile home value include electric, plumbing, HVAC, and appliances. The number of fixtures in your home can also alter its value.
Upgrades are another consideration; newer appliances, renovated rooms, and new flooring can all make a substantial difference to your bottom line when it comes to the sale.
Does a Mobile Home Hold Its Value?
In comparison with "stick-built" homes, manufactured homes can depreciate more over time. Both traditional and mobile homes' values can fluctuate with the market, but buyer perceptions have skewed things.
Many people think that a manufactured home can't outlast a stick-built home. Since many banks don't want to offer loans on these properties, it's also tougher for people to get into a manufactured house in the first place. But if you keep your home in good repair and ensure that regular maintenance occurs, it shouldn't drop off in value.
In short, manufactured homes can hold their value if maintained and updated correctly.
How Many Years Do You Depreciate a Mobile Home?
Typically, a mobile home's depreciation value spans 27.5 years, as determined by the IRS's guidelines. The depreciation value guidelines give them the same procedures to follow as traditional buildings and foundations.
How Fast Do Mobile Homes Depreciate?
When depreciating a mobile home, its value dips about 3% to 3.5% each year. The rate amount may vary if you've made upgrades and improvements to your mobile home to enhance its condition.
If the owner of a mobile home owns the land it's placed on, the value depreciates slower than a mobile home on leased land.
How Can I Increase the Value of my Mobile Home?
You can incorporate several techniques to increase the value of your mobile home if you're interested. Generally, older mobile homes have less value than newer houses. However, they can still grow in value based on what the homeowner chooses to incorporate and improve their manufactured home's amenities to ensure a more significant return on investment.
Be careful on how much you spend improving the amenities or appliances of your mobile home. Sometimes the total costs of these upgrades are not captured in the total selling price.
Upgrading Your Mobile Home's Appliances
The appliances in your manufactured home can increase the overall value of it. By having new, energy-efficient appliances, you can sell it for a higher value due to buyers' immediate convenience appeal.
The simplest of touch-ups can go a long way to give homeowners more leeway for selling their property and give buyers an enhanced living quality.
Adding Special Features to Your Mobile Home
Most of the time, additional installations to your mobile home can increase a mobile home's selling value. Adding patios, skylights, solar panels, and green appliances to the mobile home enhances a buyer's decision for the home that suits them best.
If you want to add these extra components to your mobile home, you'll need to make sure that your additions comply with the appropriate HUD standards. Some of these standards include the minimum size and a secure chassis for transportation. If your newly added amenities don't abide by these standards, the value will degrade.
Can a Mobile Home Be Appraised?
If you want an approximate value for your manufactured home, you may need to do an appraisal of the property. Depending on the installation of your manufactured home, the appraisal process may vary. Each option offers users convenience for its services but may also have some limitations.
These appraisal normally come with a fee. If you would like to sell your mobile home, contact Mobile Home HQ for a free appraisal and cash offer.
Online NADA Appraisal Forms
You can fill out NADA offers online appraisal forms with information about your home for a small fee that varies depending on what options you choose. You can send your completed NADA form via fax or email.
Calculating the total value of your property takes the components of the base structure value (length x width), adjustments for state location and home condition, and additional features. Depending on what model you have and what adjustments you make, the final cost varies.
In-Person Appraisals
Some people may prefer having an appraisal done by a professional onsite. If you're interested, you should contact a licensed real estate agent with experience in manufactured homes for doing the appraisals.
Having a professional make an in-person appraisal might be a more expensive option, costing between $250 to $400, but may leave you with a more accurate assessment of every square inch of the home.
To skip these fees for more money in your pocket, give Mobile Home HQ a call.
Mobile Home Appraisals as Real Property or Personal Property
Mobile homes with permanent fixtures to their foundations have eligibility for appraisal as real property and usually have more value. Mobile homes that aren't permanently attached to a foundation get appraised as personal property.
Real property appraisals for mobile homes include inspections of the home's interior and exterior and compare the value to similar homes previously sold. With this option, your measurements should give you a good idea of how to identify your mobile home's value.
Is It Worth Fixing Up An Old Mobile Home?
The HUD standards for older manufactured homes might be different than ones built recently. If you own an older model, there are ways to keep it looking fresh for potential home buyers. Even the most rundown manufactured homes can be in peak condition with the right fixing.
If an old mobile home receives these enhancements, they're more likely to have more value than residences that lack home improvement or repairs. In most cases, adding these tune-ups to the property isn't worth the time for enhancing its value.
Finding the Right Company to Help You Make a Deal
Sometimes, it takes a lot of effort to find the right services to sell a mobile home at its greatest value. Some people might prefer finding ways to promote their mobile listings, while others might try marketing it by themselves. No matter what option you choose, keep in mind that every buyer has different tastes in an ideal manufactured home.
Using An Experienced Mobile Home Realtor
If you consider finding a real estate agent to promote and finalize the deals for the sale of your mobile home, you should choose one who has experience with selling mobile or manufactured homes since it's a specific market in the real estate industry.
By using an experienced real estate agent, you can also get a final idea of what the mobile home value may be through their extensive property appraisals. They can promote the listings through local and online venues, and entice potential buyers into deciding if the property suits them.
Marketing the Property Through Self Marketing
If you want to promote your mobile home without professional assistance, you'll have to do most of the appraisals and marketing by yourself. If your home resides in a mobile home park, you'll have to consult the park owner to determine what's the best outlet to promote the home.
Every detail of the listing, including location, size, price, age, material, and additional features, should be finalized by the time you're ready to sell. If you want to boost your buyers' interest, be sure to keep the manufactured home in excellent condition to increase its chances of being sold at the value you want.
Getting a Cash Offer for Your Mobile Home
If you are looking to sell your mobile home fast or just want to move without dealing with real estate agents, appraisals, and various other fees, the best route for you could be to get a cash offer. Depending on the status of your home and title, you could have payment for your mobile home with 7 days. If this sounds like the best route, give our team a call today.
Taking the Next Steps
If you think it's time to sell your mobile home, don't hesitate to contact us. We understand the process of selling your mobile from start to finish, and we can make sure that you get as much value out of your mobile home as possible.