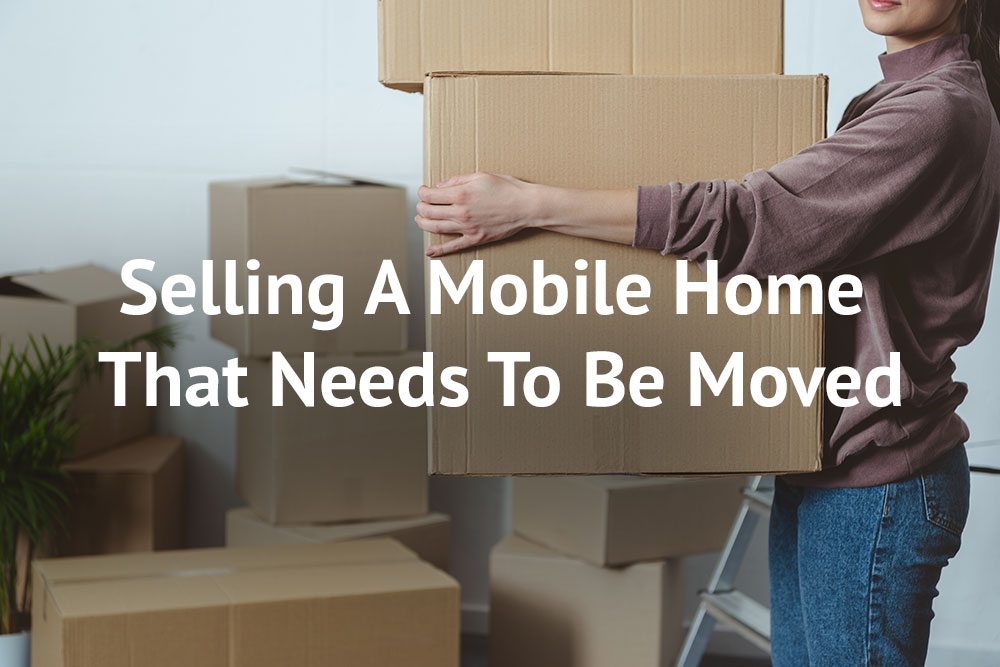 Selling a manufactured or mobile home to be moved can sound daunting. It requires you to learn local zoning laws, permits requirements, and renovation needs. You may not know where to get started or how to sell it at the best value.
This article will help you learn about how to sell your mobile home and move it easier.
The first step you need to take is to verify if your home is tied to its land. Some people choose to sell their land separately because it has greater value. Others will sell them together, but you'll have to take a few legal steps to know which to do.
It's best to contact your local tax office or appraiser to know which is for you. You can ask them how to separate your manufactured home from your land to sell it. Once you've decided whether to separate them, you can think about selling and moving your mobile home to its new location.
How to Sell a Mobile Home that Needs to be Moved
First, you want to calculate the value of your manufactured home. A lot of factors will change your home's rate, including:
Paint / Cosmetic Damage
Energy Efficiency
Size
Year of Manufacturing
Pay attention to the maintenance of your manufactured home. Sturdy building materials make it more valuable and long-lasting. But cosmetic features like a new, clean paint job can raise your mobile home's value.
Other details that add to a home's charm are massaging showerheads, ceiling fans, and walkways. These additions have room for creativity, but careful not to be too bold. It's easier to sell mobile homes with neutral colors because customers like having a blank canvas to fill with their unique furniture.
Customers are also more likely to be interested in a home with sustainable energy appliances. These can be high-tech features like solar panels or skylights. Some of this technology is expensive, so it may not be worth renovating it just for resale. But smaller updates like putting in well-insulated skirting can be more accessible and affordable.
Remember that some sustainable energy appliances, like geothermal heat pumps (GHP), only work on permanent-site manufactured homes. That's another reason you might want to sell your land separate from your home: to keep your infrastructure for your next residence.
Size and legal status affect its real-estate value, too. Double-wide homes naturally sell for more than single-wide. Customers are willing to buy homes that come with bought land over leased land. However, you won't have to worry about that if you're selling the home alone.
Selling a mobile home to be moved isn't as hard as it seems. Some buyers are happy to pay the cost of moving if the home is in great condition. Usually, though, they would prefer the seller do it. Since moving renovations already cost a lot of money, you might wonder how you can save money for move-out day.
How Can I Move a Mobile Home for Free?
If you are selling your mobile home to an individual or investor a lot of time they will handle and pay for the moving cost. Contact our team if you would like a cash offer for your mobile home.
The other option to move your manufactured home for free is by finding the right park. Some mobile home parks are willing to cover moving costs if your home is in great condition. If they offer this option, be sure to ask if they will cover installation costs at the new site, such as for utilities.
Otherwise, it isn't easy to move a manufactured home for free. Most states have laws preventing owners from moving their homes alone. That's because moving a mobile home has a lot of safety regulations involved. You usually need a professional to make sure your home will be safe, fit, and sturdy for its new location.
Texas allows you to move your home, but you have to apply for permits. This permit ensures that you can safely transport your home without risking other vehicles on the road. You would also require a vehicle with a permit to carry oversized loads. The TxDMV site provides a chart to help you determine what permit applies to your vehicle.
If a mobile home park won't cover your moving costs, it's best to hire professional movers instead. They can provide safety inspections and insurance to take the stress off your shoulders. They also have a safe transportation experience and can lend extra hands. Contact Mobile Home HQ for a free appraisal on your home real estate and moving costs.
Can you Move Old Mobile Homes?
Yes, but it's important to evaluate your home's safety.
You want to inspect your home's roof, doors, windows, pipes, skirting, or even tires to transport it safely. Both these features' security to the foundation and materials change how you'll move it.
Many old manufactured homes have metal roofs, which are more prone to leaking. You also want to ensure your doors and windows are aligned not to fall during the drive. Check for polybutylene pipes that show signs of degradation and for any holes in your skirting. Finally, review that your steel frame foundation and tires have no damage.
Beware that homes manufactured before 1976 are especially difficult to sell. In the 1970s, electrical problems were causing many mobile homes to catch on fire. So in 1976, the HUD implemented new restrictions for safer insulation and fire security.
Unfortunately, it is hard and many times impossible to get a loan for a home built before 1976, even if it has modifications. Caustic materials like asbestos and formaldehyde add an extra layer of risk to old homes. Cooking and sleeping areas in pre-1976 homes tended to be close together. Any doors or windows to escape from a fire weren't optimized to make it safe in time for help to arrive.
Because of this, it's better to buy newer mobile home models for both your safety and investment value.
How Much is a Permit to Move a Mobile Home?
You will have to acquire a permit in Texas to move a mobile home. The Texas Department of Motor Vehicles (TxDMV) has a manufactured housing single trip permit that costs $40. The permit covers a one-way trip and gives you five days to complete the move. You'll have to measure the size and weight of your home to apply.
If you're moving to another state or county, you might have to obtain a second permit. Permit costs across the nation vary between $15-$100, depending on distance and home size. Keep in mind that this is for the permit, but not for the entire cost of moving.
It takes time for the county to process paperwork. So it's best to have all your information ready early. You'll want to obtain two certificates:
County Treasurer Certificate certifying you have no Unpaid Dues / Taxes
Having both of these ready to go can expedite the time it takes to obtain a permit. We know some sellers have a deadline to move, so acting fast can make it easier. If you believe your vehicle may be qualified to transport a house, you can review vehicle permit requirements. If not, movers will include the vehicle in their costs to relocate.
Mobile Home Transport Costs
On average, it costs about $5000 to move a mobile home within 100 miles or less. This cost includes permits, transportation, and handling to install your new home at the site. However, you can move a single-wide home under 50 miles in Texas for around $2000-$3000. So the ranges are wide, but only a proper evaluation can give you your home's estimate.
Some homes need renovation not only for higher-value but also for safe moving. Movers need to ensure features like doors are secured so they don't shake while driving. They have to check that the roofline is protected, the home is strapped, gutters are removed, and A-frames are secured. Essentially, you need any pieces that can swing off during movement secured.
You may need help removing your home's skirting, deck, steps, and landscaping. These are easy features to maintain with professional help.
Can you Move a Used Mobile Home?
Yes, even if it needs renovations.
It's best to partner with a manufactured home specialist like Mobile Home HQ because we understand this specific market. Our team can accurately gauge the necessary trends, locations, and features new consumers are interested in. With our help, you can focus on investing in repairs that will pay you back the most.
If the mobile home that needs to be moved is in a park, you should consult the park owner. They can provide you with insight into the right market or audience to promote your home. Alternatively, listing sites like ours can provide easy access for potential customers.
If you plan to move into a mobile home park, you might want movers to help you set up at the new location. Park owners will want you to have it finished as fast as possible not to disrupt neighbors. Make sure you're on the same page with your movers about how much they'll help at the new site.
You can sell your home even if it still has a mortgage. Consider short-selling it, or partner with a manufactured home buying company like Mobile Home HQ to know your options.
How Much Does it Cost to Move a Mobile Home?
If you hire a professional moving company, the cost of moving a mobile home can range from $5000 to $20,000. However, the $20,000 cost is most likely if you're moving a triple-wide home across the nation. Whether your home is single or double-wide, it will likely fall under $15,000.
The cost is high, but it's a small investment to keep your home safe for the long run. Professional movers can provide insurance to cover any damage done during installation or moving. For example, trees and traffic can cause minor knicks on your home on the road. Additionally, they can catch features like doors or siding that need securing you may have missed.
How Much Does it Cost to Move a Double-Wide?
You can expect the cost to be at least $8,000 – $10,000 to move a double-wide home.
You may have to pay for a police escort or street closure. Double-wide homes are often larger than road lanes, posing a hazard to other drivers. So these safety measures are necessary to protect both drivers and your property.
The weight of your home will affect its cost.
Older homes generally weigh about 35 lbs per square foot. In contrast, newer homes with sturdier materials may be closer to 50 lbs per sq ft. You can also estimate the cost by looking at how accessible the new moving location is. Are there mountains to cross or tight loads? If there are, the cost may go up.
How Much Does it Cost to Move a Single-Wide?
A single-wide home will cost between $3000 to $5000 to move.
This cost stays the same if it's from 50 to 100 miles. Some companies will charge an extra fee at an hourly rate between $5 to $16 per extra mile.
These moving costs often cover home movement, permits, and wiring hookups. Before putting it on the moving truck, be sure to remove all furniture. Not only could they move around during transportation, but it will also reduce weight. You can leave appliances like showers inside, but call your providers to shut off the services.
Winds can interfere with loose pieces, especially with lighter single-wide homes. You may want to consider securing items like satellite dishes somewhere less exposed. That way, they won't come undone by any weather or bumpy roads.
Determining the Value and Moving Cost of Your Mobile Home
Evaluating your manufactured home's real estate value to be moved and the associated costs can be overwhelming. We want to buy mobile homes, so we're making it easier to get it done. If you don't want to stress contacting an agent or broker, doing inspections, or marketing, we can help you.
We offer a free evaluation to give you a ballpark estimate of your home's value. If you can only provide pictures of it right now, we can still work with you to give our recommendations.
You can receive a non-binding offer to buy your mobile home, and we'll work with your deadlines to meet your needs. Don't worry about renovation or moving needs – we'll take care of that.
Contact Mobile Home HQ to get an offer on your mobile home today.