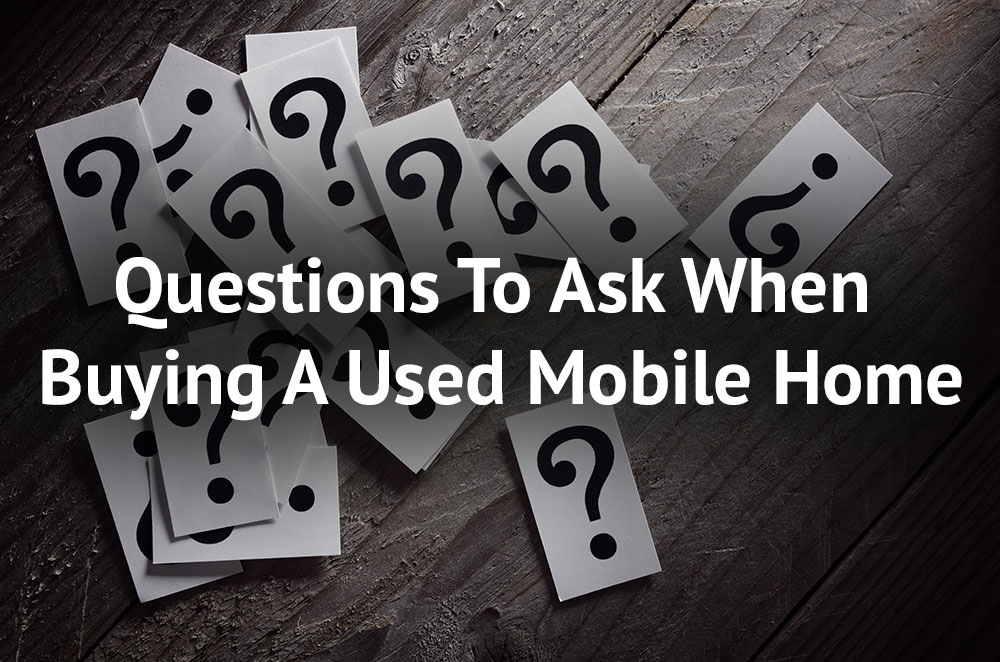 When buying a used mobile home, there are several aspects you should look into to ensure that it's worth the investment. Buyers should first contact a professional, such as Mobile Home HQ, to obtain advice on the right questions you should ask to prevent future problems from occurring.
In this article, we will look at the several factors you should consider and what to do before purchasing a used mobile home.
What to Look for When Buying a Used Manufactured Home
Some of the factors to look for when buying a used manufactured home include:
the stability of the manufactured home
the conditions of the plumbing and electrical systems
the age of the mobile home
the modifications made
signs of wear and tear
materials used in construction
You'll also need to consider whether the home requires moving from its current lot; moving a manufactured home is typically expensive and can impact both the buying and selling processes.
Stability of the Mobile House
Before buying a mobile home, a home inspector should verify if the home is well-leveled on the ground. Also, the foundation or piers should be correctly installed and adequately meet the soil specifications below the house. In hurricane-prone areas, the manufactured home should have steel strap ties to support it during a storm.
An unleveled mobile home can cause stress to its joints, resulting in leaks or squeaks.
Additionally, living at home would be frustrating as interior doors and cabinets would have difficulty remaining closed without any support.
If you purchased a mobile home that is being moved to your land or a mobile home park, it is important that professional movers and installers are used to make sure you home is setup correctly.
The Conditions of the Plumbing and Electrical Systems
A faulty plumbing and electrical system can lead to costly repairs in the future.
For the electrical system, you should find out the AMP capacity to figure out whether it can support all your electrical appliances. Modern mobile homes have a 100 amp capacity, whereas old ones have a 50 to 60 amps capacity.
You should also check for aluminum wiring because it is a sign of vintage homes. If found, you should consider rewiring the house to protect your appliances and prevent fire hazards.
For the plumbing system, a home inspector should check whether the system is fully functioning and survive through the winter season. There should also be adequate venting in the system.
The Age of the Home
As the new owner of a mobile home, you should have a good idea of when it first entered the market and the number of owners it has had since then.
Knowing its age will also help to identify the problems it has. Perhaps there was a problem regarding plumbing components the year the home came into the market.
The Modifications Made
Renovations, additions, and enhancements typically impact the resale value of a mobile home.
It may be vintage, but it has new fittings and finishes. Knowing the improvements made, you will evaluate your pricing strategy when you decide to sell your mobile home.
Signs of Wear and Tear
Wear and tear are typically due to old age. Some of the stuff you need to check include chipped paint, tile cracks, wood floor scruff, broken window seals, faded metal fittings, and worn enamel on sinks, tubs, or toilets.
Some items are difficult to find and require the experience of a home inspector. These include worn-out insulation, mildew, mold, and a damaged foundation.
A home with many problems will lead to expensive repair and maintenance costs. These costs can easily deter people from buying that mobile home.
Materials Used in Construction
During the mobile home inspection, you should require a home inspector to identify the different materials used. The quality materials typically last longer, which helps to save on repair and maintenance costs. Knowing the materials will help you discover how best to take care of them.
Additionally, materials will let you know if your mobile home can withstand a series of weather damages.
Title Certificate
A manufactured home is an asset and thus deserves a title certificate to legalize your ownership. The title certificate also signifies the completion of the transaction.
To ensure that the mobile home title document is genuine, you can check the HUD tag or the label.
Buying A Used Mobile Home Checklist
When purchasing a used mobile home, you should create a structural and mechanical checklist to ensure that everything is in order and save the time and money needed for repairs.
For the structural, you should include all structural elements:
roofs
gutters
skirtings
floors
walls
windows
doors
You should check, for example, whether the gutters and the downspouts steer the water away from your house. The roof should have ample overhangs to prevent rainwater from entering the manufactured home. You should make sure that everything on the list is up to standard.
The mechanical checklist should include:
all heating
plumbing
electrical fittings
If possible, you should test all the elements to ensure that they are functioning. Make sure you listen to any drips, squeaking parts, or any odd noises that may signal potential repairs.
Before the purchase, you should ask for a written agreement stating that all structural, mechanical, and other major appliances will be adequately functioning when you assume possession of the mobile home. You should also consider the parking area, the turnaround room, and the state of any trees in the vicinity.
Ensure that all verbal agreements are in writing. You should make sure that you go through your contract carefully.
Hidden Costs of Buying A Mobile Home
Purchasing a mobile home is relatively cheap, but the financing can be complicated. Many factors affect the value of your manufactured home and whether it will qualify for traditional mortgage financing. One of them is the cost of the land you are putting your mobile home on. You will either need to buy land or rent it in a mobile home park.
When you rent, the park management will also charge for water and heat unless you have your own electric heater and water pump. Based on your contract, you may also need to make insurance payments.
On the other hand, you will be subject to property taxes when you purchase your land. If you are in an incorporated area, you will also have to pay sewer taxes. Additionally, you will be required to pay for water and heat services.
A new mobile home comes with a warranty that does not include the upkeep of lawns, cleaning the exterior using power washing machines, and any other services not covered by it. All this adds to the maintenance costs.
For used mobile homes, you will be responsible for all maintenance and repair costs. You will also need to modify the external elements as they age.
What To Do Before Buying A Mobile Home
Before purchasing a mobile home, you should finalize the location for your mobile home. It is crucial because you are going to need the land on which you are going to put it. You can either rent or buy the land.
Buying a mobile home can be affordable, but it can be expensive to finance. You need to know where you will get money to maintain your manufactured home. The best recommendation is to consider funding your mobile home through the Federal Housing Authority (FHA) or a mobile home mortgage company.
There are many things to consider when it comes to defining your house. They include the number and use of rooms, exterior design, interior design, and fittings. Doing all this will make it easier to select the home that is ideally suited for you and your family.
The quality of the materials used and the construction standards determine the strength, durability, and capability of the mobile home to withstand the elements of wind, snow, and rain.
Installation contractors do not allow mobile homes on grounds softened by thawing snow or rain. Your installation contractor will determine when the land is ready.
What To Know Before Buying A Mobile home
Some things to know before buying a mobile home include:
There are a few financing options available. Banks usually treat mobile homes as personal property. Therefore, they only give out debt consolidation loans. You can get a loan from a mortgage lender, but only if your mobile home is attached to the foundation. You can also get loans from credit unions or mobile home dealers. For all situations, your home must be inspected and certified.
Mobile homes usually lose value over time. Mobile homes that do not come with their land lose their worth over time. The loss is because only the land appreciates over time.
You need to pay fees when you rent in a park. When you rent land in a mobile home park, you will need to pay monthly fees to cover water, sewage, ground pickup, and ground maintenance costs.
Contact Mobile Home HQ
Ready to buy a mobile home that's perfect for your needs?
With these resources, including a used mobile home checklist, you're ready to start searching. Keeping an open mind while knowing what questions to ask when buying a used mobile home can help you find a great deal.
If you have any questions about buying your next mobile home, contact Mobile Home HQ.